How to Choose a Luxury Hotel?
Most people believe that luxury hotels will provide the greatest comfort, the best services and world class facilities. However, even hotels with a five-star rating do not always live up to expectations. Many people take the easy route by turning to the trusted names of big hotel chains. However you can often get much better results if you do your homework before booking a luxury hotel. Be sure to get the facilities that you require and the best value for your money. Can your hotel truly make your stay memorable? You might consider the following factors when deciding to stay at a luxury hotel:
Staying at a luxury hotel
The location

The best luxury hotel to choose may not necessarily belong to a popular chain of hotels in the city center. It might be a fabulous resort that is on the outskirts of the city or even a bit further away, surrounded by nature. Whatever your choice, it should make you feel that the location best suits your needs or preferences. Consider your reason for traveling also. If you want to relax then you may want to go for a hotel that is away from the bustling city center. Many attractions are outside the city center. Our luxury Chiang Mai accommodation is in a more relaxed environment and the highlights and attractions of the area are still easily accessible.

Privacy

Do you wish that you did not have to compete with all the other guests in a large hotel? Some more unique and select luxury hotels are able to provide you with complete privacy. Are you staying with someone special or with a group, like your friends or family? Either way you will appreciate the relaxation that comes with knowing that you have the facilities to yourselves.

We have stayed in many of the best luxury hotels that money can buy but nothing compares to having the place to yourselves. We offer extraordinary, luxury accommodation in the form of individual pavilions, high-end villas, in a gated and private property. On top of that we restrict our bookings to only one couple, family or group staying with us at any one time! This way we can guarantee levels of privacy that are just not possible at a standard luxury hotel. Our pavilions are spread around our large private estate. No rooms are too close to one another and you do not have to share the facilities with any other guests.

Personalized services

The quality of the service is another factor that can make a luxury hotel stay out of this world. Our private luxury resort allows us to provide you with a more personalized service. We are able to pay much more attention to the particular needs of every single guest. Furthermore the owners, Howie and his Thai wife Jerry, will give you unique and authentic insights into Northern Thai culture. They will guide you to wonderful places, away from the tourist traps, that only the locals know about.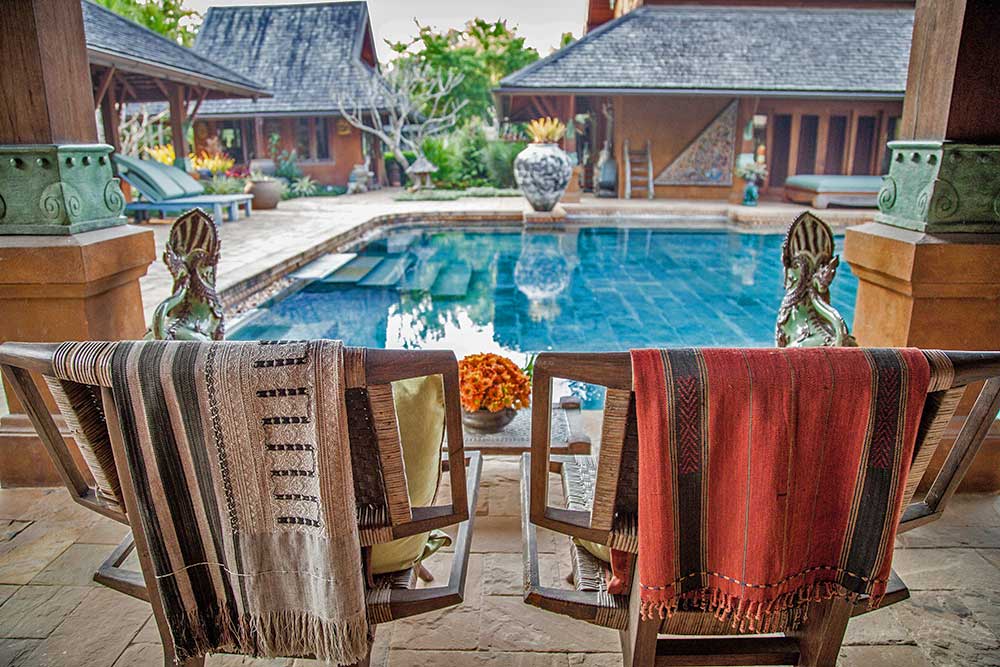 A Luxury Hotel in Chiang Mai
Howie's HomeStay is a unique holiday accommodation in the Chiang Mai area. It offers all the facilities of a luxury hotel combined with the privacy of a private villa. We have an incredible location, surrounded by nature in the heart of the playground area of Chiang Mai. However we are still just 30 minutes from downtown Chiang Mai. We enjoy offering unbeatable personal service and guiding you to the best attractions due to our local knowledge and years of experience.  You will understand what we mean when we suggest that you look further than just the big hotel chains in the city center. let us help you to find the best places to stay in Chiang Mai.