Chiang Mai Luxury Resorts – Step into a World of Unbelievable Luxury
Chiang Mai is a great destination for relaxing holidays because it is home to a number of gorgeous luxury resorts. The best Chiang Mai luxury resorts are also outside the city center.  Here you can be away from the bustling metropolis and also enjoy the peace and quiet of the countryside. Enjoy the rolling hills and nature. The leading luxury resorts in Chiang Mai will immerse you in an exclusive sanctuary of beautiful and serene surroundings. They also provide world class facilities and unbeatable service.
Chiang Mai Luxury Resorts – Location
Location is one of the keys that make Chiang Mai luxury resorts ideal for the perfect relaxing holiday retreat. Above all some of the best luxury resorts in the area are found in the Mae Rim valley. This is around a 30-minute drive from the heart of the city and furthermore just a short journey by car from the airport.
One such is our five-star boutique resort which is set on five acres of beautifully landscaped, private tropical gardens. Experience breathtaking views of the mountains from the infinity edge swimming pool. This is also the perfect base from which to explore Chiang Mai and the Mae Sa or Samoeng valley. We call this area the playground of Chiang Mai. Furthermore the staff will assist you in all aspects of planning your days. This therefore guarantees that you make the most of your visit to this exciting and interesting part of the world. Get an authentic Northern Thailand experience.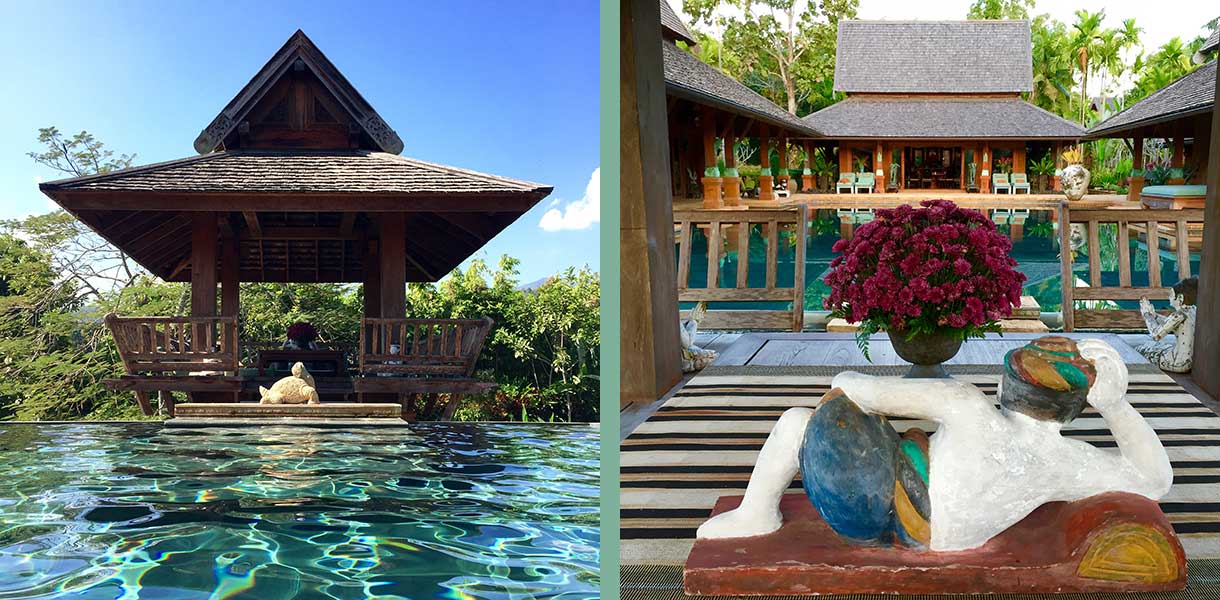 Chiang Mai Luxury Resorts – Privacy
Privacy is another factor that makes some Chiang Mai luxury resorts better than others. Our accommodation is a leading private luxury resort in the area. We offer unparalleled and guaranteed levels of privacy. How do we do this?  We only accommodate one group, family or couple at a time. This is a totally unique concept. It is consequently ideal for honeymooners. It also lets you fully experience the enjoyment of living in the tropical paradise that we have created. When you are here it will feel like you own the place. You are able to completely relax in the knowledge that there are no other guests to worry about. There will be nobody invading your space or sharing the facilities. The infinity edge swimming pool, the lush gardens and terraces, your rooms and the dining areas are all yours to enjoy with your partner, family or companions.
Luxury
Your rooms are actually independent villas or pavilions. They are architectural masterpieces and fitted with extraordinary antiques and furnishings. Additionally enjoy everything you will need for a comfortable and luxurious stay. Thai food is freshly prepared just for you, customized to your liking and served in a wonderful private dinner setting.
In this incredible and unique Chiang Mai accommodation you will get the best of both worlds. All the service associated with a 5 star hotel on top of the privacy and peaceful relaxation that is only available in a private villa. Check out our 5 star tripadvisor reviews and be the next to join the growing list of our loyal guests that have fallen in love with this extraordinary vacation experience.