Ethical Elephant Camps and Other Chiang Mai Attractions
One of the greatest experiences you can have while staying at Howie's Homestay, Chiang Mai, Thailand, is to go trekking with elephants. There are a number of tours that are organized through our resort, in order to visit an elephant camp. Our utmost concern is to only suggest camps that ethically treat the elephants as they are truly wonderful animals! Our tours are tailored around the level of adventure you require. Riding on the elephants through the amazing tropical jungle can be an unforgettable experience. It's a great way to explore the diverse landscape of the country other than on foot or along rivers. Elephants can lead you down to well-worn routes, where the view of the mountain can add a whole new dimension to the scenery around you. On a typical day, the guide will pick you up from the hotel and will drive you to the elephant camp, where you will have an amazing time.
Elephant Riding Chiang Mai
When you visit an elephant camp, you will find a number of great things to do. For example, you can learn more about them, care and bond with them, especially fun with the babies, you can also feed and bathe them. You can have a number of opportunities to interact with the elephants on a more intimate level.  You can ride comfortably in a secure bench on top of the elephant or you can be trained by professional elephant trainers in the skills of how to ride elephants on their neck. This is done by using a number of different techniques and spoken commands. You will be paired with an elephant and your ride will begin. The elephants can ride you up steep hillsides along time worn routes to a number of amazing and hidden sites in the jungle. You can get the chance to admire ancient temples, old villages that still live without electricity and you will be greeted by hill tribes who, perched up in tree platforms, sell sugar cane sticks for the elephants.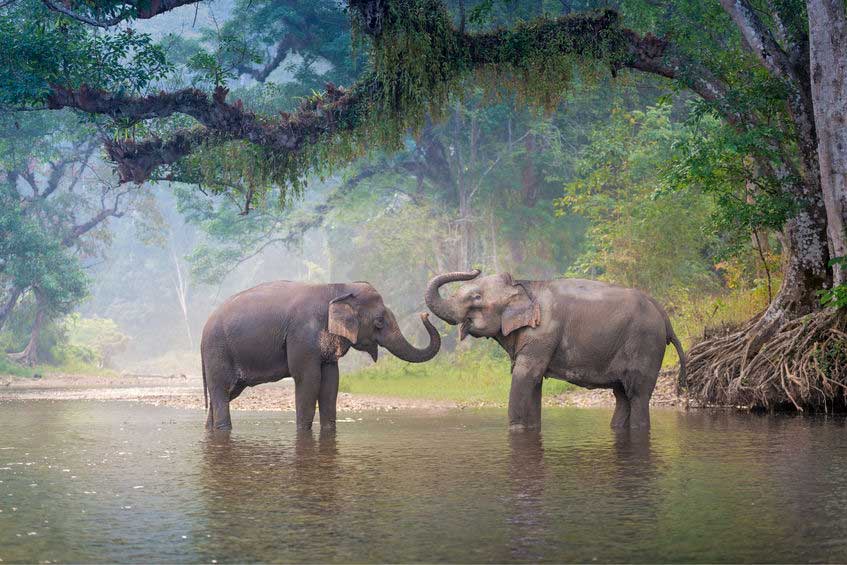 Bathing and Swimming with Elephants

The jungle has many waterfalls and during your ride with an elephant you may have the chance to stop by one. There you can give your elephant a bath or swim with them. The trainers that accompany you will tell you how to scrub them, while you get the chance to see how much they love the water. You can spend some time there enjoying the bath with your elephant and admiring all the beautiful scenery around you. After a couple of hours you'll start your trip back to the elephant camp.
Chiang Mai show with Elephants
If you wish you can get the opportunity to see a show with your favorite animals. You can admire their incredible talents; you can see them work with teak logs as they did in the old days or play a number of sports, like soccer.  You can even see them play musical instruments. After the show you and your friends can take lots of photos with elephants.
Elephant riding can be a half or full day event and a very popular activity. It can be combined with plenty of the other Chiang Mai attractions in the area such as visiting the Orchid farms, the Tiger Kingdom, Snake and Monkey shows, Craft markets and temple tours to name just a few.