How to find the best luxury hotel in Chiang Mai, Thailand?
Chiang Mai, located in the northern part of Thailand, is a popular tourist destination. It is known for its rich cultural heritage, breath-taking landscapes, and delicious cuisine. If you're planning a trip to Chiang Mai and looking for a luxurious stay, there are a few things you should consider before booking your accommodation. Here are some tips on how to find the best luxury hotel in Chiang Mai, Thailand:
Set your budget:
Before you start searching for hotels, you need to set your budget. Luxury hotels in Chiang Mai can range from a few hundred dollars to several thousand dollars per night, so it's important to know what you're willing to spend.
Best Luxury Hotel Chiang Mai Locations:
The location of the hotel is an important consideration. Do you want to be close to the city center? Perhaps you prefer the fresh air, nature and mountain views away from the city center hustle and bustle? Do you want to be near popular tourist attractions inside or outside the city?
Amenities:
Luxury hotels are known for their amenities, so you'll want to check what each hotel offers. Do you want a spa, fitness center, or swimming pool? Do you need a business center or conference facilities?
Best Luxury Hotel Chiang Mai Room options:
Luxury hotels typically offer a range of room types, from standard rooms to suites and villas. Make sure you choose the right type of room for your needs, whether you're traveling alone, with a partner, or with your family.
Reviews:
Read reviews from previous guests to get an idea of what to expect. Look for reviews that specifically mention the hotel's luxury features, such as the quality of the amenities, the level of service, and the overall experience.
Brand reputation:
Consider the reputation of the hotel brand. Is it a well-known and respected brand with a history of providing excellent service, or is it a newer brand that hasn't yet established a reputation?
Personal preferences:
Finally, consider your personal preferences. Do you prefer modern or traditional decor? Maybe you prefer a hotel that is family-friendly or, alternatively, caters to adults only? Do you want a hotel that offers a specific type of cuisine or dining experience?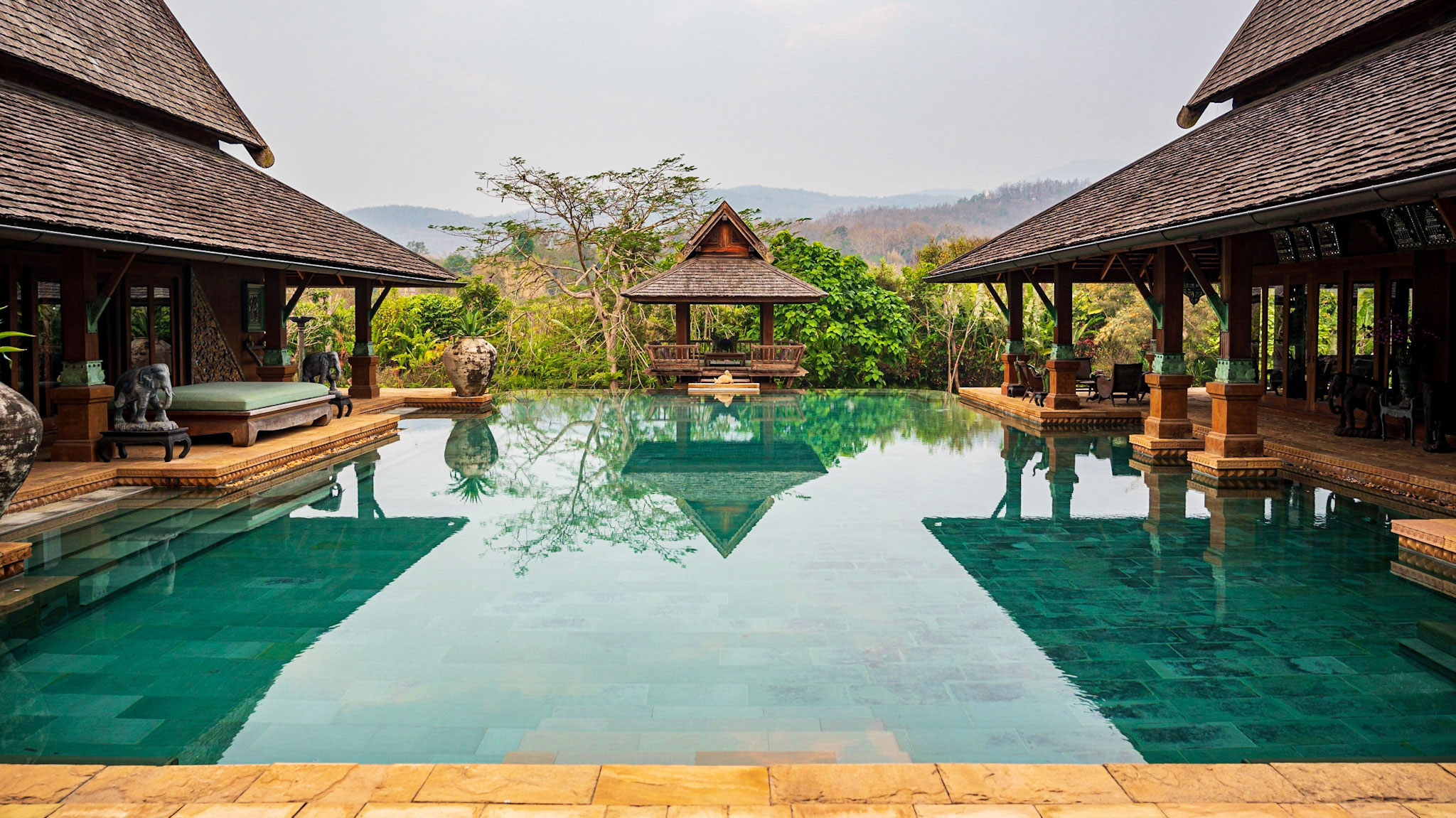 With these factors in mind, here are some of the best luxury hotels in Chiang Mai, Thailand:
Four Seasons Resort Chiang Mai:
This five-star hotel is in the Mae Rim Valley, surrounded by lush tropical greenery. It offers a range of luxury accommodations, including villas with private pools, and a range of amenities, including a spa, fitness center, and two swimming pools. The Four Seasons is known for its excellent service and attention to detail, making it a popular choice for luxury travelers.
Dhara Dhevi Chiang Mai:
This resort is set in 60 acres of lush gardens and rice paddies, offering a serene and peaceful retreat from the hustle and bustle of the city. It features traditional Thai architecture and decor, with a range of luxurious accommodations, including villas and suites. The Dhara Dhevi is known for its excellent dining options, including Thai, Chinese, and French cuisine, as well as its spa and wellness facilities.
Anantara Chiang Mai Resort:
This luxurious hotel is located on the banks of the Mae Ping River, offering stunning views of the city and the surrounding mountains. It features a range of rooms and suites, as well as private pool villas. The Anantara is known for its exceptional service and amenities, including a spa, fitness center, and infinity pool overlooking the river.
Shangri-La Hotel Chiang Mai:
This five-star hotel is in the heart of the city, offering easy access to popular tourist attractions, shopping, and dining. It features spacious rooms and suites, as well as a range of amenities, including a spa, fitness center, and outdoor pool.
When it comes to finding the best luxury hotel in Chiang Mai, it's important to consider your personal preferences and travel style. Each of these hotels offers a unique atmosphere and range of amenities, so take the time to research and choose the one that best suits your needs. With the right accommodations, you can relax and enjoy all that Chiang Mai has to offer in style and comfort.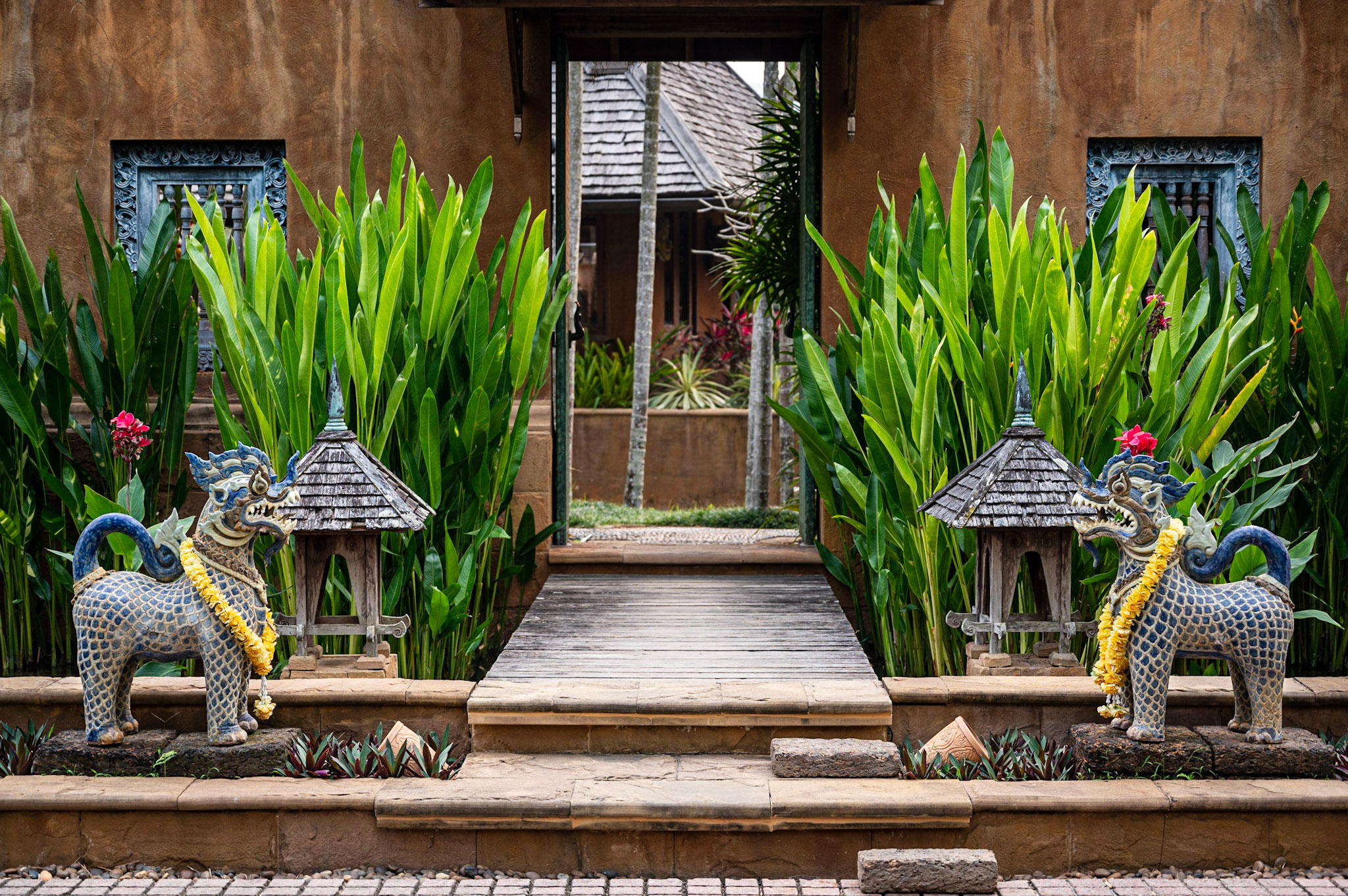 Looking for something different and unique?
In addition to the hotels mentioned above, there are also a variety of other, less well-known gems offering luxury accommodations in Chiang Mai. One such is Howie's HomeStay.
Unique Accommodation
Howie's HomeStay is a unique example of Chiang Mai hospitality. It is located in a tranquil mountainous area just a short ride north of the city. It is both a homestay, a luxury villa, and an eco-resort. And yet it is something else that is completely unique – a private, exclusive, incredible experience unlike any other Chiang Mai accommodation. Yes it is both a luxury resort and a boutique hotel but the most impressive thing – you will be the only guests there when you stay. That's right Howie only takes one set of guests at a time!
A Personal Experience
Howie's offers a more intimate and personal experience compared to larger hotels. Room options include The Teak Pavilion along with The Family Pavilion and Suites. The rooms are beautifully decorated with traditional Thai furnishings and modern amenities. The property is built around an extraordinary saltwater infinity edge pool with uninterrupted views to the surrounding mountains.
One of the main draws of Howie's HomeStay is the hospitality of the hosts, Howie, and his wife Jerri. They offer a warm and welcoming environment, along with insider knowledge of the local area. They can provide recommendations for activities and dining options, as well as arrange transportation and tours.
Experience Local Culture
In addition to its comfortable accommodations and friendly hosts, Howie's HomeStay also offers unique cultural experiences. Jerri is a renowned Thai chef and enjoys teaching guests how to prepare authentic Thai dishes. Howie will introduce you to the local area. They also arrange tours of local temples, offering a deeper understanding of Thai culture and history.
Howie's HomeStay offers levels of luxury that the larger hotels in Chiang Mai find hard to match. Howie's is a labour of love. It provides a more authentic and personalized experience. Guests can immerse themselves in Thai culture and gain a better understanding of the local way of life. Many guests, however, find that they just want to stay at the resort enjoying the 5 acres of grounds filled with exotic gardens, a small stream, and a small lake.
How to find the best luxury hotel Chiang Mai – Conclusion
No matter what type of accommodation you choose, it's important to research and read reviews. This will ensure that you find the best option for your needs. Whether you're looking for a traditional luxury hotel or a unique homestay experience, Chiang Mai offers plenty of options to suit all preferences and travel styles.
In conclusion, the best luxury hotel in Chiang Mai will depend on your personal preferences and travel style. Whether you prefer a large hotel with all the amenities, a more intimate bed and breakfast, or something in between, there is no shortage of options in Chiang Mai. Take the time to research and compare different accommodations to find the one that best suits your needs and budget.