Luxury Resorts in Chiang Mai for the Ultimate Travel Experience
Chiang Mai is rapidly becoming recognized as the best Thai travel destination and rightfully so. You will discover luxury resorts in Chiang Mai where you will experience the most amazing holiday accommodation.  The city and its surrounding area also has something to suite everyone's unique taste. Are you an adventurous backpacker, thrill-seeker, culture buff, or someone looking for a quiet, romantic getaway? Finding your own little piece of paradise in this wonderful part of Northern Thailand shouldn't be difficult.
Luxury resorts in Chiang Mai old city
Discover ancient temples, rustic boutiques, and bustling markets in Chiang Mai's Old City quarter. The perfect place to get a taste of the ancient world and living traditions of the the past. There is a golden temple at every turn and a variety of street vendors and markets tempting you with a variety of tastes. What's great about visiting this part of Chiang Mai is accessibility to the rest of the city. You are just a short journey away from numerous museums, temples, and galleries. At the same time you are within easy reach of the more modern parts of downtown Chiang Mai.
Getting away from the hustle and bustle
However, setting up camp in the old city quarter may not be the best choice. Maybe you prefer to get away from the hustle and bustle of the city. Are you looking for a more unique and relaxing experience in a luxury resort style of accommodation? Perhaps you would rather be lounging round a pool. For this you should cast your eyes a short distance to the North of the city to the Mae Rim area.
You can find Luxury resorts here that compete with the best in the world. And yet it is still within easy reach of the best that downtown Chiang Mai has to offer. Here you are surrounded by the most exotic and varied flora and fauna in a tropical wonderland. These luxury Chiang Mai resorts are exclusive and private. And yet you will still experience the wonders that most travelers to Chiang Mai look forward to. In fact you are nearer to some of the area's biggest attractions such as the elephant parks, hill tribe experiences, trekking and sightseeing. That is because the Mae Sa valley is the playground of Chiang Mai.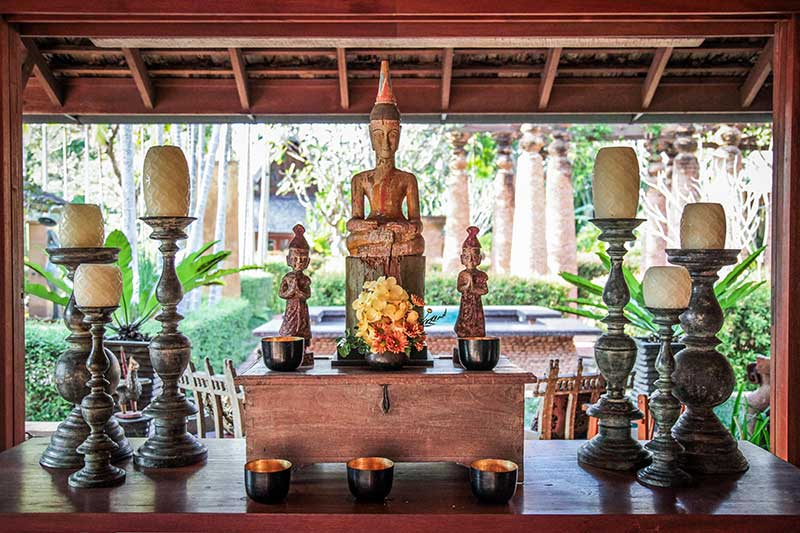 Howie's HomeStay is one of the most renowned luxury resorts in Chiang Mai, perched at the foothills of the Himalayan Range. It is recognized as one of the most luxurious Chiang Mai hotels to be found. 7 years in the making, no detail has been overlooked in its creation. It is a masterpiece by one of Asia's most renowned architects, Bill Bensley. Howie's HomeStay is a unique experience of Chiang Mai Lanna hospitality.  A luxury villa, a 5 star hotel, an eco resort and yet it is something else that is completely unique. Discover this extraordinary private, exclusive, incredible experience that is unlike any other Chiang Mai accommodation.